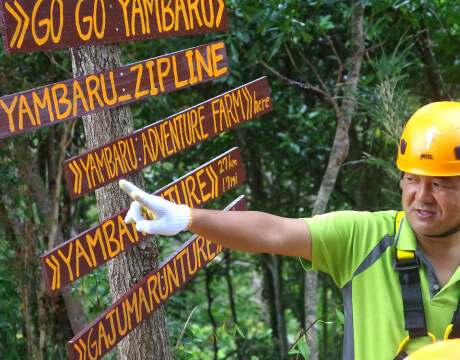 A guide will lead you through every course so you can feel assured and focus on the fun
The stage is the forest of Yambaru in the northern part of Okinawa's main island. This is a new type of mountain activity in Okinawa, where you can explore subtropical forests and coffee farms while gliding through the air on a zipline.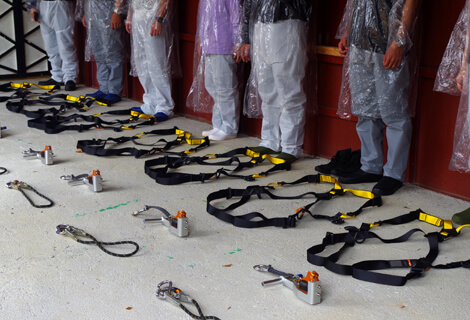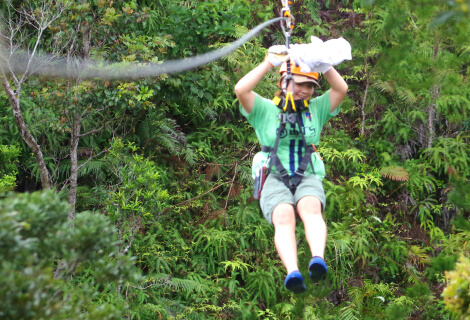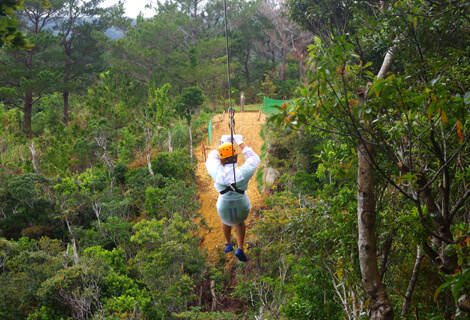 Yambaru Zipline Map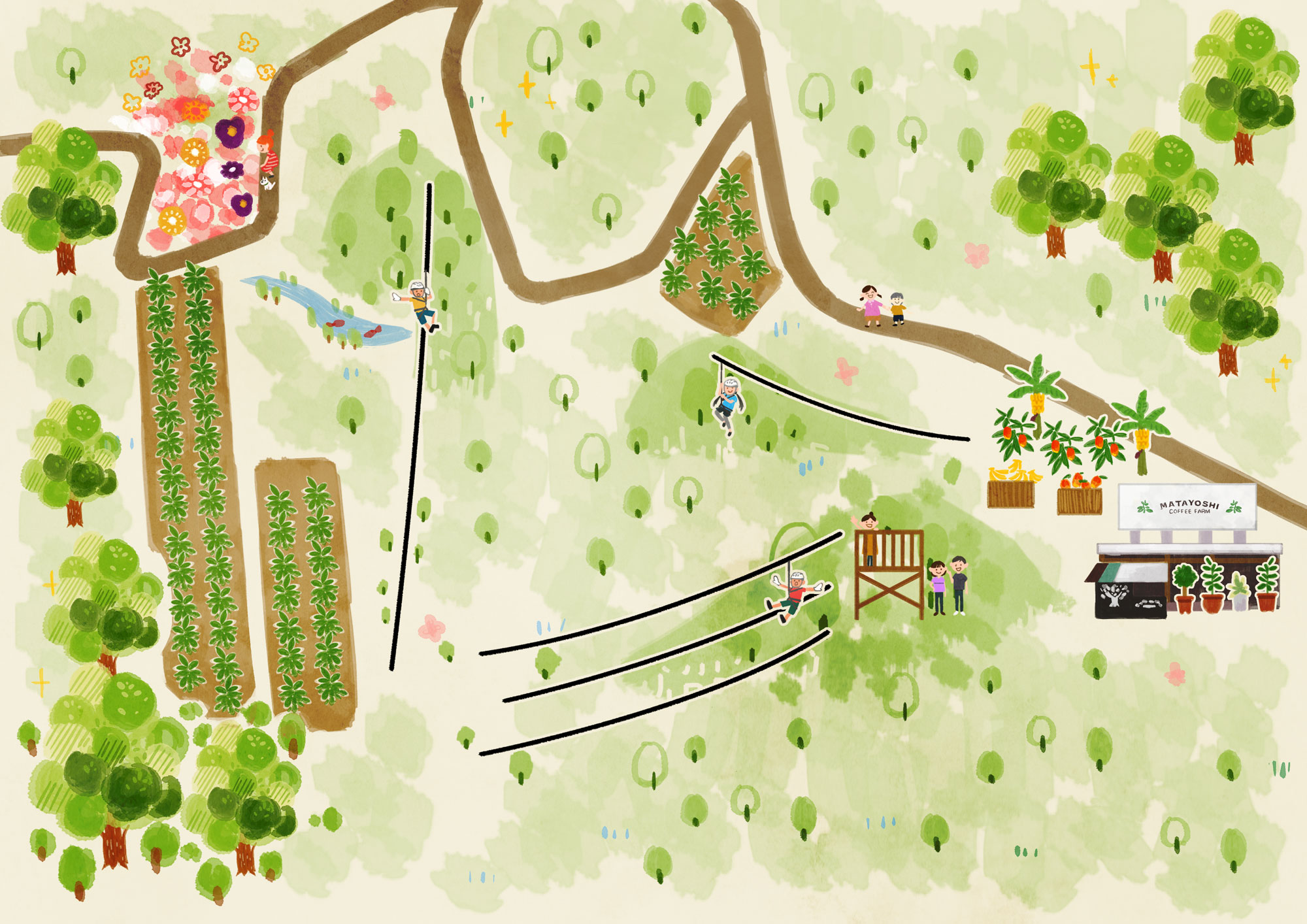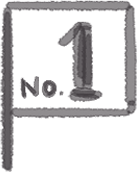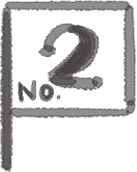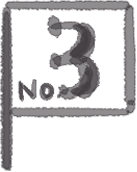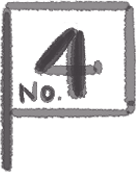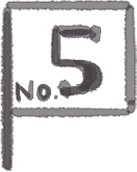 Activity Details
Date of event
Held every day!
Start Time
10:00 / 13:00 / 15:00
*Meet 30 minutes before the start of the tour. The tour duration is 90-120 minutes.
Fee (tax included)
Adult (16 years and older) – 5,500 JPY
Children (15 years old and under) – 4,500 JPY
Included in the price
entrance fee, experience fee, and guide fee.
Conditions of Participation and Information
Must be at least 120 cm tall
Must weigh between 25-100 kg
*Those who are pregnant or under the influence of alcohol are not allowed to participate.
Clothing
Please wear clothes that are easy to move around in and can get dirty, and athletic shoes.
When it rains
Experience is possible even if it rains. However, thunder, lightning, and heavy rain may cause cancelations.
Meeting place
Yanbaru Adventure Field (in Matayoshi Coffee farm)
Address: 718-28 Gesashi, Higashi-son, Kunigami-gun, Okinawa
Tour Flow
(1) Preparation and explanation of the zipline.
The guide will explain and demonstrate how to use the equipment (about 15 minutes)
↓
(2) Zipline Experience and Yambaru Nature Walk
A guide will accompany you on all five ziplines, which vary in height and length, so you don't have to worry. They will teach you several different ways to zip! In addition, between ziplines, you can take a guided nature walk in the Yambaru forest (about 90 minutes).
Our Staff
Name

Towa Sakihara
Nickname

Towa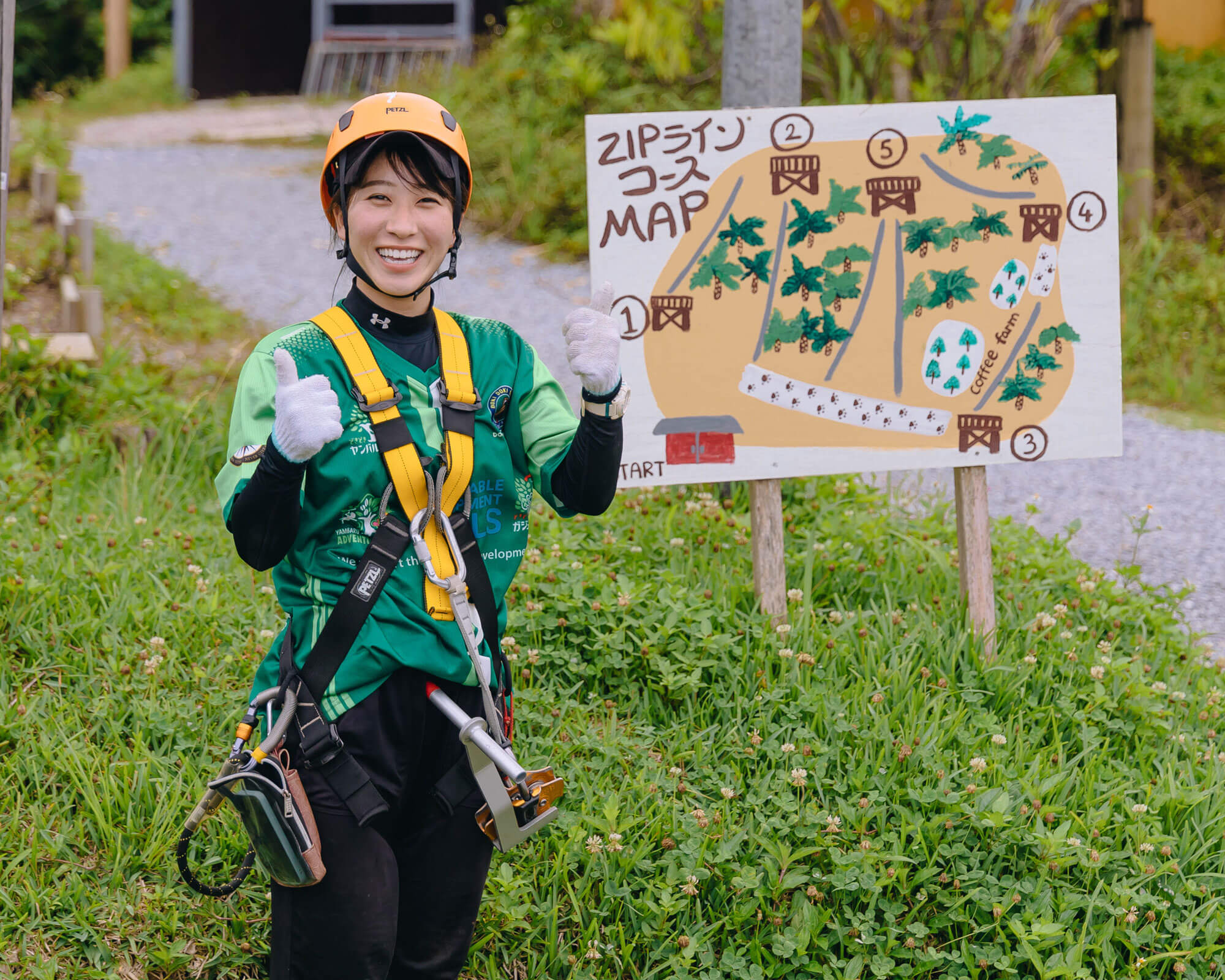 Background

After graduating from high school in Okinawa, she went on to a technical college for biology.
After graduating, she started working at Yambarunture.

Hobbies and Special Skills

Napping, family outings, camping, snorkeling.

My work policy

I always do my best to make my customers leave with smiles.

Attractions of Yambaru that I want to tell you about

Within Okinawa, Yambaru has sceneries, landscapes, and wildlife in various ecosystems that cannot be seen in the south-central regions. I want you to experience this unique ecosystem firsthand.

Message to Customers

Have you ever seen a plant that has been around for 100 million years? Have you ever seen a coffee flower or eaten a coffee berry? Do you know any flightless birds that live on land?
The Yambaru region of northern Okinawa is a World Heritage Site and a place of rich nature. Try our ATV and zipline to see firsthand rare and unique animals and plants, such as Cyathea lepifera, Okinawa tree lizards, Okinawa rails (flightless bird), bananas, shikuwasa, and coffee trees that live and grow in the course.
Zipline Q&A
I want to try both the ATV and the zipline. How should I organize my schedule?

(1) Zipline at 10:00 ⇒ ATV at 11:45.
(2) Zipline at 13:00 ⇒ ATV at 14:45.
These are the ways to minimize wait times and have the smoothest experience.

Will my clothes get dirty during the experience?

Depending on the weather, please come prepared to get dirty. Please wear clothes that are easy to move in and can get dirty, and athletic shoes.

I am unable to participate because I have an infant. Is there a place to wait while my family is going through the program?

Yes. The adjacent Matayoshi Cafe is where you can wait while taking a break.

Is there parking available?

Parking is available right in front of the reception desk.

Will the event be held in case of rain?

The tour will be held unless there is a severe storm. If the tour is cancelled, we will contact your registered emergency contact when the decision is made. However, unless notified otherwise, the tour will be held.

Is it possible to take a bus?

We are very sorry. No public transportation exists, so please come to our park by rental car or cab.

How much does a cab cost?

Please contact the cab company directly for detailed cab fare information.